---
Have a feeling that your door is unreliable even after locking it and don't want unauthorized entry? If so then worry no more! Our SafeCompact™ is a portable door lock that can make any inward door impenetrable from the outside even with keys.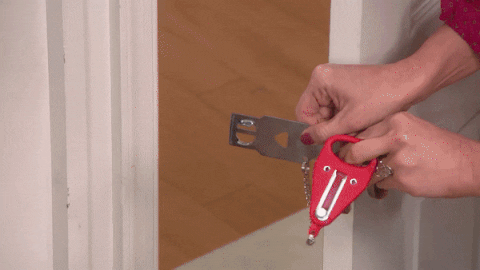 Prevents Any Unauthorized Entry - Our SafeCompact™ is a perfect tool to add more security especially when you are spending the night RVs, hotel rooms, and Airbnb properties.
Makes The Door Impossible To Be Opened From The Outside - The added security and well-designed SafeCompact™ allows you to secure yourself and your family and prevent people from opening the door even with the use of the keys.
A High-End Security Tool That Lasts For A Very Long Time - Our SafeCompact™ was made from high-quality strong stainless iron and PP plastic so you can have a high-end security tool that can last a lifetime.
Can Be Installed In 3 Easy Steps - Our SafeCompact™ can be easily installed in 3 simple steps. Just insert the metal piece on the door lock, close the door, and then attach the red handle to the metal sheet and you're done.
Now you can sleep with peace of mind knowing you and your family are much safer and secure and no unauthorized person will barge into your door with the help of our SafeCompact™


✔️Prevents Unauthorized Entry
✔️Makes The Door Impossible To Breach From The Outside
✔️Made To Last
✔️Easy To Install



📦 Package Includes
1x SafeCompact™ Portable Door Lock
Irish Supply will ALWAYS send tracking numbers so you can track them every step of the way! Incredible things are worth waiting for! 😉

Don't forget to click the "ADD TO CART" button! Order yours TODAY to save HUGE DISCOUNTS before we run out of stock.
🔒 30 DAY MONEY-BACK GUARANTEE
🔒 FREE NATIONWIDE SHIPPING
🔒 SECURE ORDERING