---
Product description
Boil Fresh, Hot Water Anywhere!
When you are on the go, do you miss your morning cup of tea the most? Well, worry no more with the Silicone Travel Kettle!
Our fully portable water boiling system features an easy one-button control, translucent pitcher, and cool silicone design for your folding convenience.
A super fast stainless steel heating element boils water in as little as four minutes.
You'll also enjoy top notch safety with overheat and boil dry protection. With our specially designed 1-2 cup capacity, you'll save time, energy, and tons of luggage space for all your sipping adventures!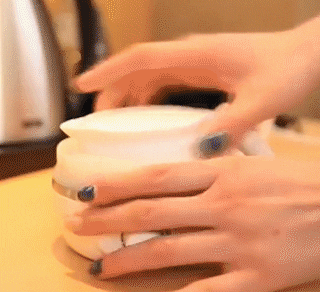 Product Introduction:
With different Knob type temperature adjustment for different drinks, can not only preserve heat, but also cook milk, coffee, tea and noodle.
The foldable kettle is made of safe food grade protective material Heats up quickly,no smell ,easy to carry after fold for travelling and camping.

Product Features:
High-Temperature Resistant Silicone
Can Detach 3 Layers
Flat Stainless Steel Heating Element
Automatic Open Lid
Food Grade Material
Kettle Capacity: 600ML
Voltage :100V -240 800W
Kettle Net Weight:0.5kg/ 1.1 Ibs
Package Weight: Approx.0.7kg/1.54 Ibs.

Package Include:
1x Electric Kettle
1x English Manual

Note:
Please adjust the correct 110 or 220 voltage knob at the base of the Kettle before using it!
1.If the water needs to be self-heating, please keep the knob on boiling, once the temperature below 75 degrees, the water will be heated again.
2.If the water no longer needs to be heated, please turn the knob off and unplug the power.
3.Pls understand that there may smell on the kettle since the material is silicone. However, please rest assured that this is food-grade silicone and BPA-free. It is safe for you to boil water. Please keep the lid open and put it on the air vent, also you can boil the kettle with