---
"
Living in an urban area with millions of people, I always found it impossible to walk around without sweating over identity theft. Especially since they burned all the funds from my card back in 2014. Now I can finally walk around care-free again, even at the airports.
"
- Simon Z.
✔️ Count on All-Round Data Theft Protection, Wherever You May Roam
✔️ Get a Spacey, Yet Compact Hard Case Wallet With Cash, Card & Coin Slots
✔️ No More Constantly Scanning the Environment for Potential Scanners
✔️ No More Struggling to Quick-Draw From the Traditional Wallets
Reinforced Hard Case Wallet to Prevent RFID Identity Theft and Access Cards, Cash, and Coins Quicker
Organize your cards, cash, and coins better, and end the constant feeling that your wallet is a mess that requires detective-level inspection in order to find the card you were looking for. Moreover, stay one step ahead of potential sneaky, refined identity thieves with uncompromisable RFID scanning protection:
Get the Right-Sized Hard Case Wallet & Store More

Go About Your Day Unworried By the Threat of Identity Theft

Access Your Wallet Contents Quicker and Easier
Get FORTID  today to save 40%.
Get a reliable Anti-RFID identity fortress for your cards, cash and coins, and save extra.
✓
Minimalist Design in Aluminium, With a Smooth, Fine Finish
✓
All-Round RFID Scanning Protection
✓
Enough Compartments for All Your Wallet Contents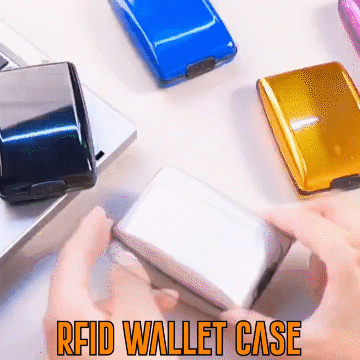 Package Includes:
1 x FORTID Anti-RFID Heavy Duty Wallet


Shop now and experience the benefits of domestic shopping: Affordable prices, free expedited shipping, and dedicated customer service, quick to address any and all of your queries.
With FORTID, the integrity of your identity remains uncompromised, and your cards, cash, and coins are on quick-draw and easily accessible.
Don't waste another breath going around public spaces sweating about RFID scanners and sneaky, technologically mediocre, yet oh-so-very-entitled thieves

Simply store your belongings in an impenetrable, hard case Anti-RFID wallet and go care-free about your business

Access your belongings quickly and easily