---
"This easy-to-install sun visor storage finally gave me a spot to store all those cards, papers and tiny items that constantly pile up around the car, and I finally have a designated spot for my sunglasses, instead of randomly tossing them on the dashboard or the glove box! 10/10!"
- Benjamin P.
✔️ Get a Definitive Spot to Store Sunglasses
✔️ No More Chaos in The Glove Box & the Dashboard
✔️ Have Your Cards & Documents At Hand's Reach
✔️ Magnetic Attraction For Coings & Small Metal Objects
Multi-Use Sunglasses Storage to Drive Mess-Free
Designed to provide you with multi-use storage for your sunglasses, cards, and all those tiny items that constantly pile up around the dashboard, gear shifter, and glove box. QUICKDRAW lets you drive mess-free & focused while keeping your most frequently used items at hand's reach at all times. With a back clip buckle, it takes but a second to install it on your sun visor and hit the road ready for action.
Protect your sunglasses from getting lost or damaged in the car, and have your cards, bills, documents, and coins at hand's reach.
Back Clip Buckle to Easily Attach to Sun Visor

Quick-Draw Bills, Cards & Documents Storage

Magnetic Attraction for Coins & Other Small Metal Items
Purchase two to save 50%.
Say "Good Riddance" to the ever-growing mess in the car interior, and save extra.
✓ No More Wasting Time Searching For Essential Accessories
✓ Drive With a Clean, Organized Interior
✓ Store Sunglasses Safely At Hand Reach
Customers Who Use QUICKDRAW Asked:
Q: "Can the magnetic attraction property damage my cards?"
A: "Certainly not. QUICKDRAW's magnets are located on the sides, while the card slots are set at the bottom & well-isolated."
Got a Co-Pilot? Get two, and save 40%.
To say thank you, we'd like to include a special discount on your order if you purchase today.
Get a QUICKDRAW for the passenger seat as well, and save 40%.
1 x QUICKDRAW Sun Visor Storage
Shop now and experience the benefits of domestic shopping: Affordable prices, free expedited shipping, and dedicated customer service, quick to address any and all of your queries.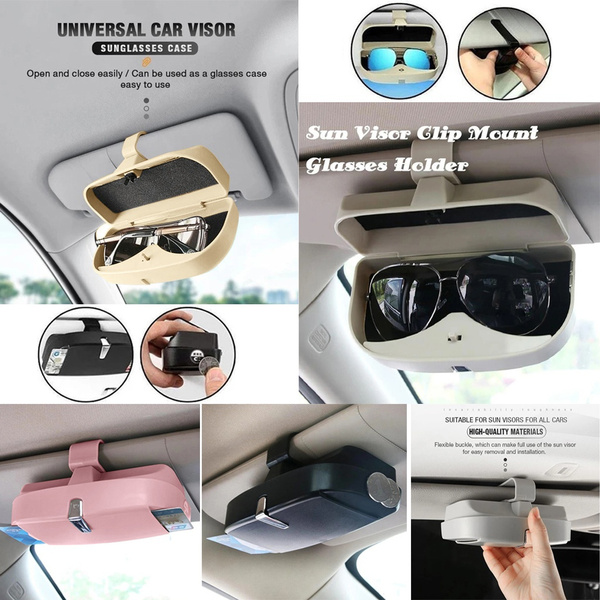 Mess-free & organized car interior means more relaxed, safer driving.
Stop Taking Your Off the Road Ahead Searching for Sunglasses & Other Items

Keep Documents, Cards, Bills & Tickets in One Place & Easy to Reach

One-Second Installation, Stress- & Mess-Free Rides Forever