---
"
Getting these PVC pads is so much better than bothering to drill in standard plastic caps! Finally I can just drag and push my chairs around, without twitching each time I hear the sound of the chair leg scratching into the floor. 10/10!
"
- Mike T.
✔️ Protect the Floor From Picking Up Scratches
✔️ Stabilize Chairs, Tables, Sofas & Other Furniture
✔️ Move Furniture Without Making Any Noise
✔️ Super Quick & Easy to Install Without Any Tools
Hassle-Free Furniture & Floors Protection & Anti-Slip Pads, Easy to Install Without Any Tools 
Even if you try your hardest not to drag the chairs over the floor and avoid leaving marks and scratches on the floor, it's just going to happen sometimes. Besides, coffee tables, armchairs & similar stuff sometimes have a really bad grip with their built-in legs, so they slide all over the place the entire time.
Secure Floors From Picking Up Scratches

Stabilize Tables, Chairs & Other Furniture

Reduce Noise When Moving Your Furniture

Tool-Free Pull-On Installation
Get GRIPPRO today to save 40%.
Protect floors and furniture without using tools, and save extra.
✓
Protects Both Floors & Furniture
Package Includes:
20 x GRIPPRO Furniture Anti-Slip Leg Pads 
Product Dimension
Shop now and experience the benefits of domestic shopping: Affordable prices, free expedited shipping, and dedicated customer service, quick to address any and all of your queries.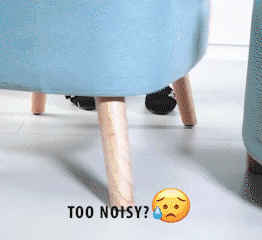 Protect furniture and floors, and reduce noise while moving your furniture.
Why drill in plastic caps if you can just pull on PVC pads?

Move furniture around, pull out chairs, and reposition coffee tables—noise-free.

Get 20 Pcs per package—enough to protect up to 5 chairs!