---
Hassle-Free Furniture & Floors Protection & Anti-Slip Pads, Easy to Install Without Any Tools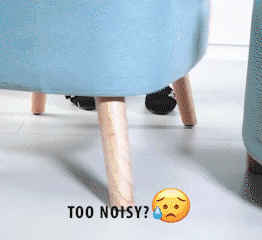 ⭐⭐⭐⭐⭐ Getting these PVC pads is so much better than bothering to drill in standard plastic caps! Finally I can just drag and push my chairs around, without twitching each time I hear the sound of the chair leg scratching into the floor. 10/10!

- Mike T.

 
Ultimate Floor Protection with High-Quality Silicone
Say goodbye to scratched floors and irritating noises caused by moving furniture. The GRIPPRO Furniture Anti-Slip Leg Pads, made of durable, high-quality silicone, offer superior protection for both your furniture and floors. Whether you have round or square chair legs, these stretchable leg caps are designed to fit various furniture feet snugly. They are easy to put on, eliminating the need for messy glues. The non-toxic, safe-for-all silicone material ensures your little ones and furry friends can roam freely without any worries.
Easy-to-Use and Versatile Furniture Protectors
With the GRIPPRO Furniture Anti-Slip Leg Pads, maintaining your furniture becomes hassle-free. The simplicity of their design allows for quick and effortless application, and their stretchable nature ensures they fit various furniture feet shapes and sizes. Say goodbye to complex installation methods and welcome the convenience of these easy-to-use leg caps.
Premium Quality for Long-lasting Furniture Protection
The GRIPPRO Furniture Anti-Slip Leg Pads are crafted from high-quality silicone, making them incredibly durable and reliable. You can count on these leg caps to protect your furniture and floors for years to come, ensuring your home remains in top condition.
Features:
✔️ Protect the Floor From Picking Up Scratches
✔️ Stabilize Chairs, Tables, Sofas & Other Furniture
✔️ Move Furniture Without Making Any Noise
GRIPPRO BY IRISH SUPPLY
By purchasing GRIPPRO Furniture Anti-Slip Leg Pads | 20 Pcs from Irish Supply, you'll experience the quality of shopping with a trusted provider: 
🚚 Enjoy FREE expedited shipping (tracking included) 
🤝 Benefit from a 14-day no-questions-asked return policy 
 📩 Get access to dedicated 24/7 customer service for all queries
📦 

Package Includes

20 x GRIPPRO Furniture Anti-Slip Leg Pads