---
The Pyramid Pan solves kitchen quandaries like these with its innovative design!
The amazing Pyramid Pan is a non-stick cooking mat that features silicone pyramids that let your food rest above the bottom of the pan for more even cooking with little or no turning. Fats and oils drain away from your baked foods for crisp results without having to grease the surface like other pans. Plus you can toss Pyramid Pan in the dishwasher afterward for a quick, hassle-free cleanup.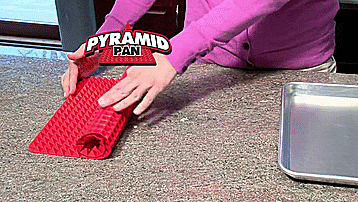 Main Benefits
Made of flexible, long-lasting, quality 100% food-grade materials. BPA free, FDA approved.
Heat resistant, with a max. temperature limit:

230

°C, 

450

°F
Freezer safe, with a low-temperature limit: -40 °C, -40°F>
Microwave, oven, freezer, and dishwasher safe
Non-stick, although with cakes we advice using a non-stick spray with the silicone cake moulds to make removing cakes that bit easier.
Specifications

Colour: Red
Temperature: -40F to +446F (-40c to + 230c)
Material: Silicone

Weight: 140g
Size: 39.5x27.5x1cm