---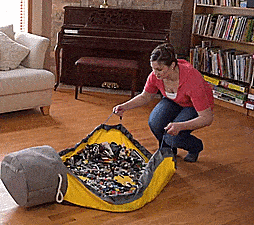 ⭐⭐⭐⭐⭐

"I wish I knew about this with my first child as well! It makes playtime super convenient. Teaching your child the limits of where they should play helps them understand other limits better too. And with the easy way it packs things up, it teaches the child that even toy gathering is fun!"

- Gracie U.
Forget Messy Playrooms & Help Kids Collect Toys Swiftly
Are you tired of picking up the toys after your kids? Well, you're not alone there.
But with this great toy basket, collect toys in less time than it took to take them out!
PLACE2PLAY is a great place for kids to play. With its dedicated playing space, they'll know their boundaries. And what's best, those boundaries actually pick up the toys!
SPREADS FOR KIDS TO PLAY ON
When you first open a toy basket, playthings come out. With PLACE2PLAY, you spread the playmat out first. Your kids learn where they can play, and learn about limits too.
MAKES TOY GATHERING A BREEZE
The playmat has another useful feature though. When your kids are done playing, just grab its ends, lift it up, and all the toys slide into the basket. How cool is that?!
HOLDS ALL THE TOYS YOUR KIDS ENJOY PLAYING WITH
When filled, it's literally a bundle of joy. Your kids will know where their toys are at any time. And on top of that, they'll know where they should be. Great for learning too!
PLACE2PLAY Features:

✓ Stiched Foldable Play Space
✓ 30cm Tall & 28cm Across
✓ Integrated Cover & Handles
Clean Your Child's Toys Easily & Save 50% With FREE Expedited Shipping
✓ Spread It For Playtime
✓ Gather Toys Easily
✓ Store The Toys Your Kids Love
1 x PLACE2PLAY Tidy Toy Basket

Shop now and experience the benefits of domestic shopping.
Affordable prices, free expedited shipping, and dedicated customer service, quick to address any and all of your queries.